(Outdated, for newer information see here)
Many countries require negative PCR tests for people entering their country. This includes tourist returning home after their wonderful stay in Iceland.
In order to obtain this certificate, follow these steps:
Register for a barcode at

https://travel.covid.is/

.

The test and the certificate cost 7,000 ISK, you need to have a cell phone (with a phone number anywhere in the world) and an email address.

Decide where and when to get the test.
Tests are done many times a day in Reykjavík and with short turnover time. When you sign up for a barcode, you can make an appointment simultaneously.

We also do tests here in the Westfjords; every weekday in Ísafjörður at 13:00

8:30

and in Patreksfjörður on Tuesdays and Thursday at 8:30. Please register for these tests by calling (+354) 450 4500, so we can adjust staffing in time. You come to the locations shown in red in the image attached or follow these links for exact location: Ísafjörður; Patreksfjörður. Come by car or foot.

Our locations are at the moment not available in a dropdown menu on the registration site. Don't worry about that, sign up for a test in Reykjavík and use the same barcode when you come to us.

If you need a test on other times or on weekends, call (+354) 450 4500 to make an appointment. We try to accommodate requests but make no guarantees. In most cases, it is just easiest to do the test in Reykjavík.
Because these are asymptomatic tests, no quarantine is needed while waiting for the results.

Test results and certificate will be sent within 24 hours to your phone and email.
Updated 1st June 2021 with new time in Ísafjörður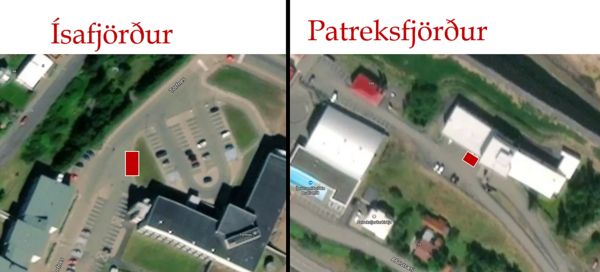 Covid-test locations
Höf.:GÓ