The health center in Ísafjörður provides general health care services for residents of Ísafjarðarbær, Bolungarvík and Súðavíkurhreppi. The office is in the east wing of the first floor of the hospital in Torfnes. The health care doctors go every week to Bolungarvík, Súðavík, Suðureyr, Flateyr and Þingeyr. A health center provides all general medical services, advice and supervision. Health care is in cooperation with health care staff.
The health center in Patreksfjörður provides general services for residents of Vesturbyggð and Tálknafjörður district. The operation is on the second floor of the hospital in Patreksfjörður. A doctor goes weekly to Tálknafjörður and Bíldudal.
You can make an appointment or call a doctor by phone 450 4500 at Ísafjörður or by phone 450 2000 on Patreksfjörður.
Vaccinations
Vaccination is an immunization procedure designed to prevent a serious infectious disease. The vaccines are either made from weakened viruses or bacteria or they contain substances found in these pathogens. The vaccines themselves cause few symptoms, but provoke an antibody response in the body that prevents or reduces the chance of people getting sick from the disease they are vaccinated against. See more information about vaccinations on the website The National Health Service.

The health care takes care of all general vaccinations:
Vaccinations of children and adults
Tourist vaccinations - more information is available on the website The National Health Service.
Vaccinations for influenza and pneumonia
Vaccinations due to Covid-19 are always on Thursdays in the winter of 2021-22. As information changes rapidly about the rules and instructions for that vaccination, more detailed information is provided regularly in notifications and on Our Facebook page.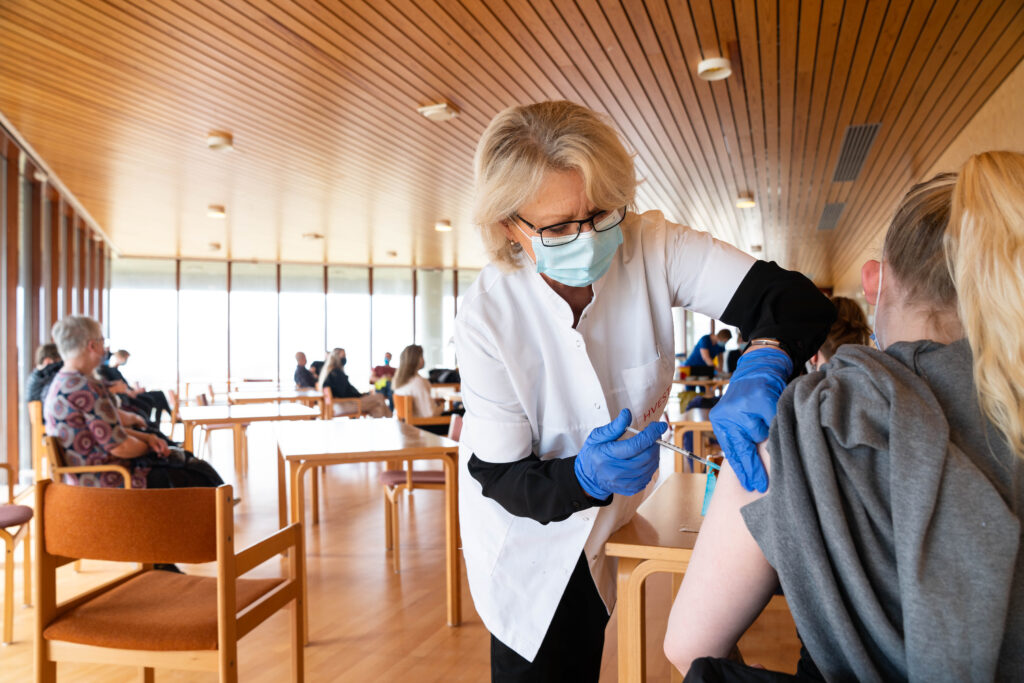 Renewal of prescriptions
As of Monday, April 29, 2019, there are two ways to renew prescriptions at the Vestfjörður Health Institute:
1. Health being
On the web healthcare.is can refill prescriptions quickly and at any time, with electronic identity cards. Simple instructions can be found at YouTube. People are encouraged to use this route.
Applications are processed during application processing Heilsuvera for.
2. Phone renewal
Working days from 10:00-11:00 you can call by phone 450 4500 and choose 3. You can only renew medicines that people have previously been prescribed by the institution's doctors. It is not possible to apply for a drug renewal of sleeping pills, strong painkillers, sedatives and other prescription drugs over the phone. Instead, you have to make an appointment/interview with a doctor.
People are encouraged to show forethought and request the renewal of medicines in time. We try to process requests on the same day, but otherwise within two working days.
Health examinations for work and residence permits
The health service administers specific occupational health examinations. There are both inspections of employees in a special risk group, for example due to working conditions, or due to health certificates in connection with work permits for foreigners.
Medical examination for residence permit
The Ísafjarðarbær Health Institute takes care of health checks for immigrants and issues health certificates to those who intend to apply for work and residence permits in Iceland.

Before issuing a certificate, a health examination must be carried out in accordance with the provisions of the Epidemic Act no. 19/1997 and regulation no. 131/1999. The health examination, on which the certificate is based, is carried out as follows:
Interview and doctor's examination

In most cases, the following tests are performed:

Tuberculosis test for those aged 35 and under
An X-ray of the lungs is taken in those over 35 years of age to rule out active tuberculosis


A blood test is taken to look for:

AIDS/AIDS (HIV)
Hepatitis B
Hepatitis C
Syphilis
For those who take a tuberculosis test, it is necessary to come twice (the reading of a tuberculosis test takes place 2-3 days after the test is done). If the tuberculosis test is positive, a lung x-ray is taken to rule out active tuberculosis.
If the results of the HIV, hepatitis and/or syphilis tests warrant, the patient is called back for an interview.
If all the results are normal, the doctor writes a health certificate and sends it to the Immigration Office.
It can be assumed that the issuance of a certificate will take 2-3 weeks.
If these tests, and others that the doctor sees reason to carry out, return negative results, the health care doctor issues a health certificate that allows the applicants to work in Iceland.
You can make an appointment for an inspection by phone 450 4500 every weekday from 08:00-16:00.
Cancer screening
Cancer research has now moved to healthcare. Annual breast examination is carried out in rural areas as stated on the website of healthcare in the capital areau.
Organizational search for early stages of cervical cancer is carried out at the health care center in Ísafjörður. Midwife Erla Rún Sigurjónsdóttir takes care of the examinations, and all women who have received an invitation to attend an examination can book an appointment through the organization's switchboard. on the phone 450 4500.
Polish
Badanie przesiewowe w kierunku raka piersi
Badanie przesiewowe w kierunku zmian moszłowch szyjki macicy
English
Screening for breast cancer
Screening for abnormal cells in the cervix
Disability assessment
General Disability
The applicant fills out an application form. The applicant's doctor fills out a disability certificate. It should contain information about diseases or disabilities, marital status, education and occupation of the applicant, spouse's occupation and other social issues. An insurance doctor assesses the applicant's disability based on the information in the medical certificate.
During the assessment, the income of the last and the current year is taken into account, but also work skills, work experience, etc. are taken into account.
The validity period is different, eg one year, ten years, five years. After the expiration date, a reassessment must be carried out unless the disability assessment is permanent. The waiting time for the assessment result is up to six weeks after the application and medical certificate have been received.
Disability level
75% disability or greater: Disability pension. The applicant is considered completely or mostly unable to work.
50 – 65% Disability: Disability grant. Working ability is significantly reduced or a medical condition results in significant additional costs.
Disability less than 50%: No disability benefits.
The payment of disability pension or disability allowance ceases at the age of 67 and old-age pension takes over.
Disability due to accidents
Social insurance accident insurance covers approved work accidents, sports accidents and the consequences of medical procedures in public institutions (but not private doctors' offices). Permanent disability as a result of an accident is assessed when it is shown that the injured person will not recover or recover further. The so-called medical disability is assessed. Standard disability assessment requirements are used, where certain injuries are assessed for the level of disability in percentiles. The same type of injury is assessed to the same percentage.
The injured person is usually invited to an interview and examination by an insurance doctor, but before that the necessary information about the consequences of the accident must be available. In exceptional cases, disability due to accidents is assessed on the basis of medical certificates only, without an examination by an insurance doctor.
The consequences of a compensable accident are only assessed, but not disability due to diseases that the person may have had before the accident. The assessment is independent of income and social conditions. The effect of the disability on the ability to earn income is not taken into account.
The waiting time for the result of the assessment for compensable accidents is 2-4 weeks from the time the medical examination takes place.
Disability level
50% disability or greater: Disability benefits paid monthly until age 67.
10 – 49% Disability: Lump sum disability benefit.
9% Disability or Less: No disability benefits.
The Medical Department of the Swedish National Insurance Institute handles disability assessments and provides more information by phone 560 4420.
Updated February 6, 2023 (GÓ)
Was the page helpful?
The website should answer any questions you may have. If she doesn't, we'd appreciate suggestions.