In Ísafjörður, all comprehensive health services are provided. There is hospital ward, accident and surgery department, health care, rehabilitation department, the nursing home Eyri, home care as well as a variety of other services. Head offices of the institute are on Ísafjörður.
Nursing home Eyri
The nursing home Eyri was officially opened on January 7, 2016. There are 30 spaces and preparations are being made to build 10 more spaces. according to plan of the Ministry of Health from 2019.
The application for a place at Eyri goes through skills and health assessment committee of Vestfjörður.
The department head of Eyr and Berg is Auður Helga Ólafsdóttir, audur@hvest.is.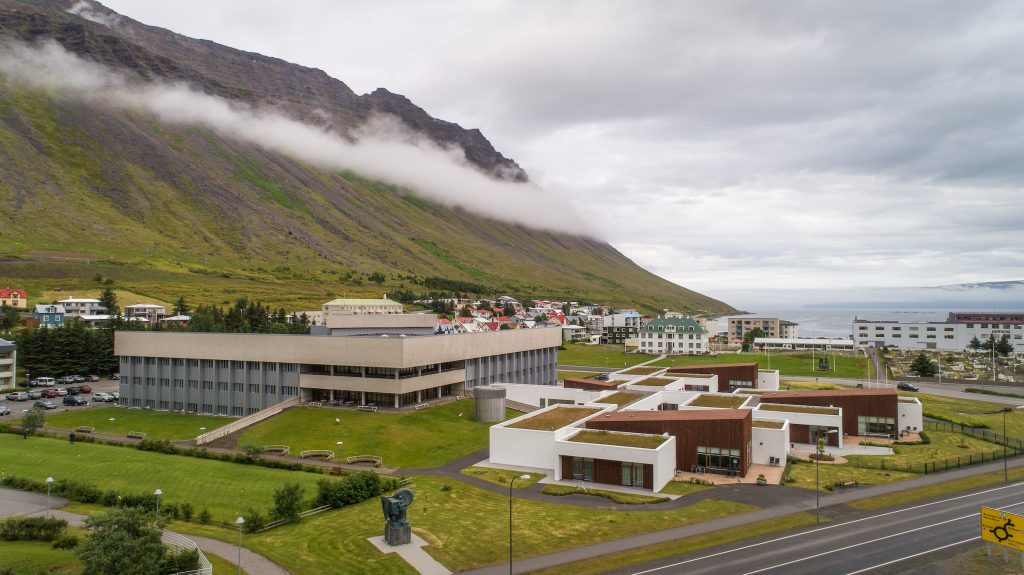 The hospital in Ísafjörður, on the left, and the nursing home in Eyri, in the foreground. The old hospital, a white building with a green roof, can be seen behind and is now the museum of Ísafjörður town.
The first shovel to the hospital designed by Jes Einar Þorsteinsson was taken in 1975 and the building was put into use in the years 1983–95.
Eyri was put into use in January 2016 and was built according to the drawings of VA architects, who were the best in the pre-selection that was held. A connecting corridor connects the home to the hospital.
Updated March 7, 2022 (UN)
Was the page helpful?
The website should answer any questions you may have. If she doesn't, we'd appreciate suggestions.