The surgery department is located on the 1st floor of the west wing, the entrance is on the right from the lobby. The department has five permanent employees. In addition to the doctor, she is assisted by two surgical nurses, a nurse anesthetist and a nurse. Associated with the surgical department is a wake-up call for patients who do not require hospitalization after surgery.
Main functions
The main procedures performed in the surgery department are the following:
Laparoscopic procedures, such as cholecystectomy, appendectomy and diagnostic procedures.
General surgery, such as hernia operations, varicose vein operations, rectal operations, operations for skin lesions, hand operations and various types of sampling for analysis. Sterilization procedures are also performed for both sexes.
C-sections, emergency C-sections and emergency procedures after birth.
Preparation for surgery
The following information is to ensure the best possible patient safety and to inform about what to expect in relation to surgery and anaesthesia. It must be ensured that someone can pick up the patient and stay with him first after surgery. Do not drive a car the same day after surgery, regardless of whether you receive anesthesia or sedatives.
Fasting and medications taken regularly
Do not eat for six hours before surgery, usually it is best not to eat anything after midnight the night before surgery.
Drink clear, particle- and fat-free fluids up to two hours before surgery, such as water, apple juice, pure tea, black coffee, Aqvarius, Powerade, Gatorade or similar beverages. Do not drink any dairy products.
It is customary to take all medications as usual, especially asthma and blood pressure medications. It is often necessary to stop taking blood thinners before surgery, but only in consultation with a doctor. If you take any medicines in the morning, you can take them with a glass of water up to one hour before your appointment.
Action day
On the morning of the operation, the patient takes a shower and puts on clean underwear. It is not advisable to apply cream on the body or put on perfume. When arriving at the hospital, the patient is given special clothing to wear during the operation. The use of chewing gum or tobacco is not recommended two hours before surgery. All jewelry must be removed before surgery, especially tongue rings.
An anesthetist reviews the state of health, fasting and gives information about the anesthesia. An intravenous catheter will be installed and most of the time anesthetized with intravenous drugs. Children are usually sedated with a mask placed over the child's head, they fall asleep in less than a minute. Parents stay with their children until they fall asleep.
The duration of the procedure depends on the type of procedure.
After surgery – On awakening
After surgery, some patients can go straight home, others need to stay awake for a certain time. During recovery, patients are monitored after procedures and it is ensured that the relevant patients are deemed fit to go home. Patients do not go home until they are free of nausea, dizziness or other discomfort.
Before going home, the patient receives an interview with the surgeon and information about what to expect when he gets home in relation to the operation he underwent.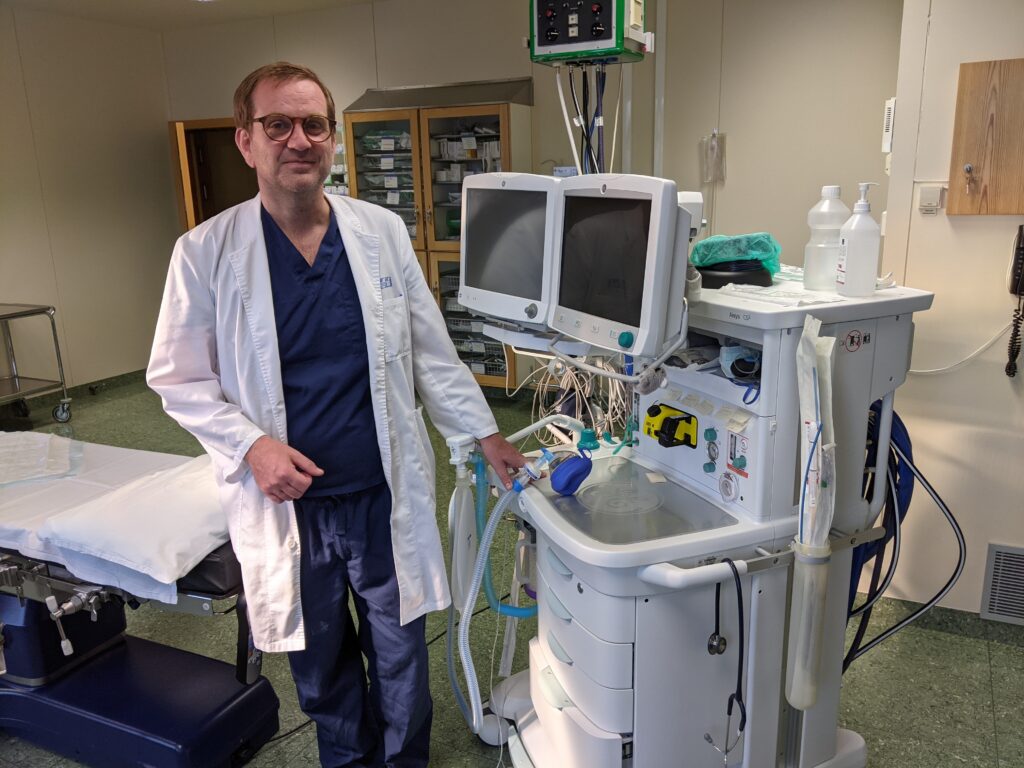 Andri Konráðsson, surgeon
Reflections
The endoscopy department is run alongside the surgery and accident department. Colonoscopies, gastroscopies, short rectal endoscopy and short endoscopy are performed. Endoscopic examinations are performed both by appointment and in emergency cases.
More information about colonoscopy:
Arrival of experts
Throat, nose and ear surgeries, such as tonsillectomy, ear tubes and various types of nose surgery are performed by an ear, nose and throat doctor.
Various smaller operations due to gynecological diseases, laparoscopies, excision, abortions, etc. are performed by a gynecologist.
You need to book an appointment with a specialist doctor at the health institution's reception desk. The office also provides information about the arrival of specialist doctors at the institution.
Opening hours of the surgery department
The surgery department is open every working day from 08:00-16:00.
The department provides 24/7 on-call service.
Appointments
Appointments are made by phone 450 4500, or in consultation with a doctor.
Updated 12 April 2023 (GÓ)
Was the page helpful?
The website should answer any questions you may have. If she doesn't, we'd appreciate suggestions.