We are looking for surgeons, internal medicine and general medicine who want to work with us at Sundhedscentret in Isafjörður, Iceland.
Den medical doctor waretager work in our bed department, the surgeon performs ambulante, elective and acute operation as well as føldshjælp. General medicine the work is carried out in general practice, although there is a changing doctor's call.
In the last time we have had Danish doctors with us and it has worked really well. The collaboration is going smoothly and the patients are satisfied. Lægerne has been happy to come here and experience something completely new.
Vestfjordene, which has around 6000 inhabitants, and Iceland offers an outstanding social security network, perfect surroundings for all kinds of outdoor activities, the world's best living conditions and fantastic schools, from kindergartens to universities.
Welcome to Ísafjörður!
Additional information
Contact: Susanna Ástvaldsdóttir (overlæge, she speaks English and Danish).
where are we
Ísafjörður is located in Vestfjorden. Sundhedsdistrict contains a total of 5 municipalities.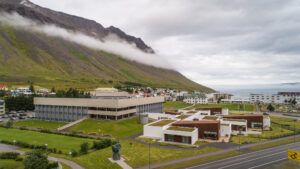 Updated September 7, 2023 (GÓ)
Was the page helpful?
The website should answer any questions you may have. If she doesn't, we'd appreciate suggestions.